A certified copy is a photocopy of a document e.g. Birth certificate that has an endorsement or certificate to verify it is a "true copy" of the document presented to the authorised signatory.
The Nautical Institute requires certain document copies submitted with applications to be certified to ensure they are a genuine copy of the original, such as Discharge Book pages and STCW Certificates of Competency.  If the document has multiple pages, EACH page must be certified and stamped.
The following is an example of the wording required on certified copies.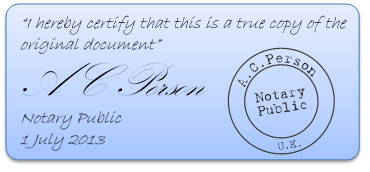 We accept certified copies signed by
Justice of the Peace
Solicitor
Notary Public
Officer authorised to take Statutory Declarations